July 2017 TBR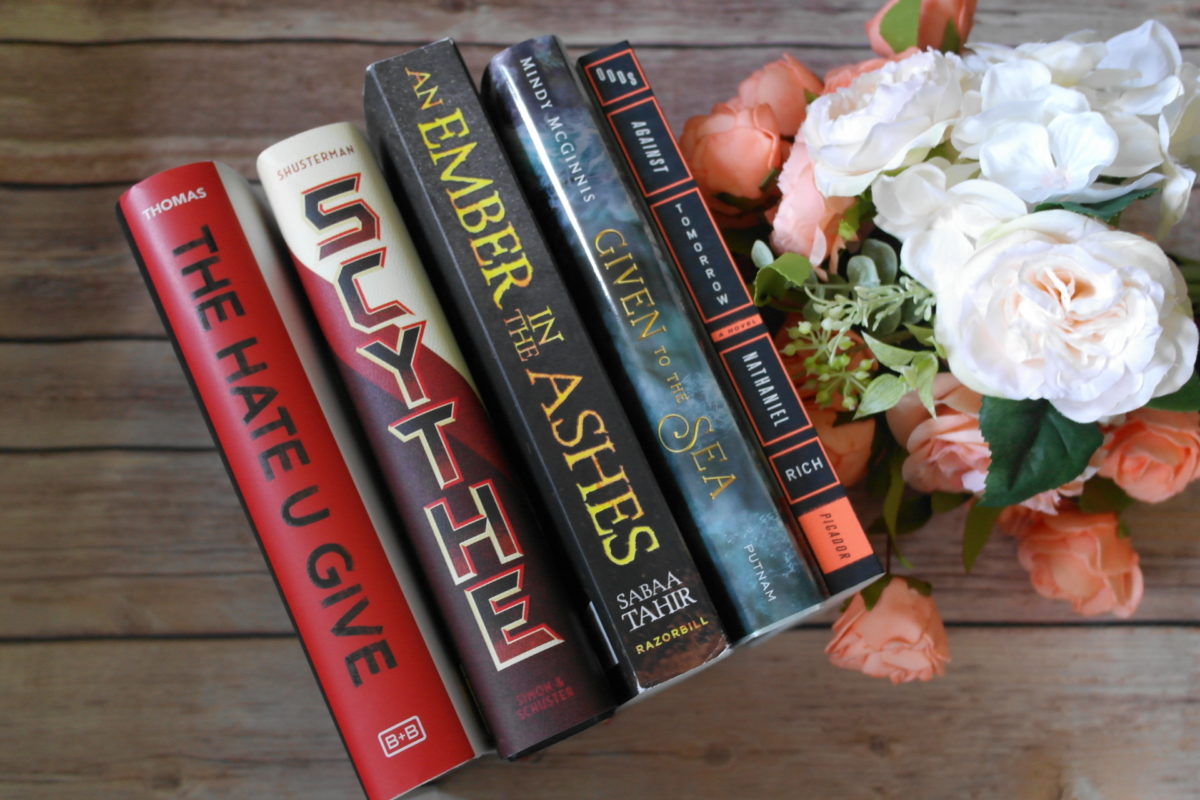 Hello readers! My June "to be read" list was too ambitious and I wasn't able to tackle all the books on it. Maybe I got a bit burnt out by reading the same genre over and over again. For July, I'm assigning myself more of a mix! Read on to see what's on my July 2017 reading list.
The Hate U Give, Angie Thomas (Pub 2/28/17)
Sixteen-year-old Starr Carter moves between two worlds: the poor neighborhood where she lives and the fancy suburban prep school she attends. The uneasy balance between these worlds is shattered when Starr witnesses the fatal shooting of her childhood best friend Khalil at the hands of a police officer. Khalil was unarmed.
Soon afterward, his death is a national headline. Some are calling him a thug, maybe even a drug dealer and a gangbanger. Protesters are taking to the streets in Khalil's name. Some cops and the local drug lord try to intimidate Starr and her family. What everyone wants to know is: what really went down that night? And the only person alive who can answer that is Starr.
But what Starr does or does not say could upend her community. It could also endanger her life. 
Scythe, by Neal Shusterman (Pub 11/22/16)
Thou shalt kill.
A world with no hunger, no disease, no war, no misery. Humanity has conquered all those things, and has even conquered death. Now scythes are the only ones who can end life—and they are commanded to do so, in order to keep the size of the population under control.
Citra and Rowan are chosen to apprentice to a scythe—a role that neither wants. These teens must master the "art" of taking life, knowing that the consequence of failure could mean losing their own.
Given to the Sea, by Mindy McGinnis (Pub 3/11/17)
Everyone has a place.
Khosa was born to be fed to the sea, to prevent the kind of wave that once destroyed the Kingdom of Stille. She can't be sacrificed until she produces an heir, but human touch repulses her…except for the touch of the Indiri.
Dara and Donil are the last of the Indiri, a native race with magic that's seductive—a force of nature—but dwindling since the Pietra slaughtered their people.
Witt leads the Pietra, the fierce warriors who are now marching on the Kingdom of Stille. The stone shores of Witt's kingdom harbor a secret threat, and to ensure the survival of his people, he's prepared to conquer every speck of Stille's soil.
Vincent stands to inherit the throne of Stille, but has no wife to share it with. When the beautiful and mysterious Khosa arrives without an heir, Vincent knows that his father will stop at nothing to make sure she fulfills her duty. Torn between protecting his kingdom and protecting the girl whose fate is tied to its very existence, Vincent's loyalty is soon at odds with his heart.
While royals scheme, Pietrans march, and the Indiri struggle to survive, the rising sea calls for its Given, and Khosa is destined to answer.
Godsgrave, by Jay Kristoff (Pub 9/5/17)
A ruthless young assassin continues her journey for revenge in this new epic fantasy from New York Times bestselling author Jay Kristoff.
Assassin Mia Corvere has found her place among the Blades of Our Lady of Blessed Murder, but many in the Red Church ministry think she's far from earned it. Plying her bloody trade in a backwater of the Republic, she's no closer to ending Consul Scaeva and Cardinal Duomo, or avenging her familia. And after a deadly confrontation with an old enemy, Mia begins to suspect the motives of the Red Church itself.
When it's announced that Scaeva and Duomo will be making a rare public appearance at the conclusion of the grand games in Godsgrave, Mia defies the Church and sells herself to a gladiatorial collegium for a chance to finally end them. Upon the sands of the arena, Mia finds new allies, bitter rivals, and more questions about her strange affinity for the shadows. But as conspiracies unfold within the collegium walls, and the body count rises, Mia will be forced to choose between loyalty and revenge, and uncover a secret that could change the very face of her world.
Set in the world of Nevernight, which Publishers Weekly called "absorbing in its complexity and bold in its bloodiness," Godsgrave will continue to thrill and satisfy fantasy fans everywhere.
An Ember in the Ashes, by Sabaa Tahir (Pub 2/9/16)
Laia is a slave. Elias is a soldier. Neither is free.   Under the Martial Empire, defiance is met with death. Those who do not vow their blood and bodies to the Emperor risk the execution of their loved ones and the destruction of all they hold dear.   It is in this brutal world, inspired by ancient Rome, that Laia lives with her grandparents and older brother. The family ekes out an existence in the Empire's impoverished backstreets. They do not challenge the Empire. They've seen what happens to those who do.   But when Laia's brother is arrested for treason, Laia is forced to make a decision. In exchange for help from rebels who promise to rescue her brother, she will risk her life to spy for them from within the Empire's greatest military academy.   There, Laia meets Elias, the school's finest soldier—and secretly, its most unwilling. Elias wants only to be free of the tyranny he's being trained to enforce. He and Laia will soon realize that their destinies are intertwined—and that their choices will change the fate of the Empire itself.
Odds Against Tomorrow, by Nathaniel Rich (Pub 3/2/13)
New York City, the near future: Mitchell Zukor, a gifted young mathematician, is hired by a mysterious new financial consulting firm, FutureWorld. The business operates out of an empty office in the Empire State Building; Mitchell is employee number two. He is asked to calculate worst-case scenarios in the most intricate detail, and his schemes are sold to corporations to indemnify them against any future disasters. This is the cutting edge of corporate irresponsibility, and business is booming.      As Mitchell immerses himself in the mathematics of catastrophe—ecological collapse, war games, natural disasters—he becomes obsessed by a culture's fears. Yet he also loses touch with his last connection to reality: Elsa Bruner, a friend with her own apocalyptic secret, who has started a commune in Maine. Then, just as Mitchell's predictions reach a nightmarish crescendo, an actual worst-case scenario overtakes Manhattan. Mitchell realizes he is uniquely prepared to profit. But at what cost?      At once an all-too-plausible literary thriller, an unexpected love story, and a philosophically searching inquiry into the nature of fear, Nathaniel Rich's Odds Against Tomorrow poses the ultimate questions of imagination and civilization. The future is not quite what it used to be.
She, Myself, and I, by Emma Young (Pub 9/5/17)
Ever since Rosa's nerve disease rendered her quadriplegic, she's depended on her handsome, confident older brother to be her rock and her mirror. But when a doctor from Boston chooses her to be a candidate for an experimental brain transplant, she and her family move from London in search of a miracle. Sylvia—a girl from a small town in Massachusetts—is brain dead, and her parents have agreed to donate her body to give Rosa a new life. But when Rosa wakes from surgery, she can't help but wonder, with increasing obsession, who Sylvia was and what her life was like. Her fascination with her new body and her desire to understand Sylvia prompt a road trip based on self-discovery... and a surprising new romance. But will Rosa be able to solve the dilemma of her identity?
Wings Unseen, by Rebecca Gomez Farrell (Pub 8/22/17)
To end a civil war, Lansera's King Turyn relinquished a quarter of his kingdom to create Medua, exiling all who would honor greed over valor to this new realm on the other side of the mountains. The Meduans and Lanserim have maintained an uneasy truce for two generations, but their ways of life are as compatible as oil and water.
When Vesperi, a Meduan noblewoman, kills a Lanserim spy with a lick of her silver flame, she hopes the powerful display of magic will convince her father to name her as his heir. She doesn't know the act will draw the eye of the tyrannical Guj, Medua's leader, or that the spy was the brother of Serrafina Gavenstone, the fiancee of Turyn's grandson, Prince Janto. As Janto sets out for an annual competition on the mysterious island of Braven, Serra accepts an invitation to study with the religious Brotherhood, hoping for somewhere to grieve her brother's murder in peace. What she finds instead is a horror that threatens both countries, devouring all living things and leaving husks of skin in its wake.
To defeat it, Janto and Serra must learn to work together with the only person who possesses the magic that can: the beautiful Vesperi, whom no one knows murdered Serra's brother. An ultimate rejection plunges Vesperi forward toward their shared destiny, with the powerful Guj on her heels and the menacing beating of unseen wings all about.
Readers of all ages will enjoy Wings Unseen, Rebecca Gomez Farrell's first full-length novel. It is a fully-imagined epic fantasy with an unforgettable cast of characters.
See anything on your own shelf? Let me know in the comments below!
Read on,