American Gods: Review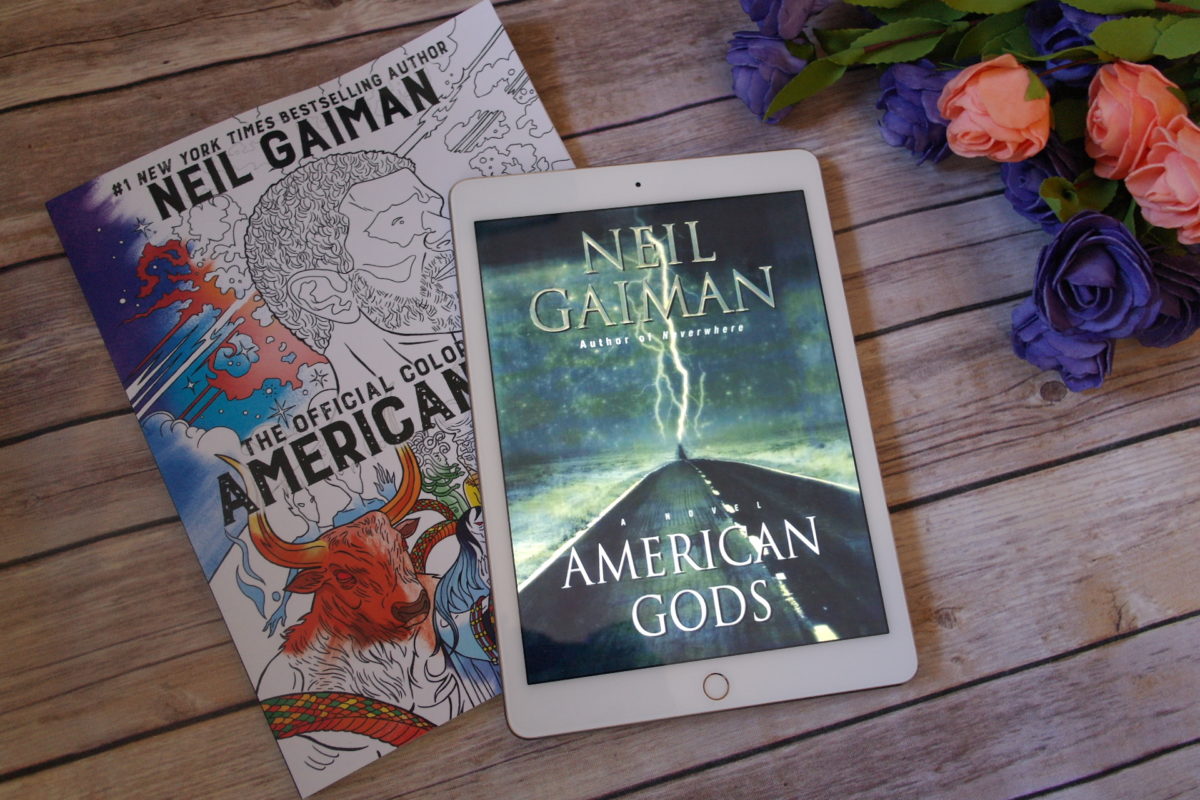 American Gods, how do you confuse me? Let me count the ways. This classic book by mythology connoisseur Neil Gaiman was bizarre, beautifully crafted, and a true homage to mythology and folklore in all of its international forms. I was eager to read the book before watching the acclaimed Starz series and I am so glad I did- because the squeamish side of me has decided that I won't be watching the show anytime soon. Read on to learn why I definitely recommend reading the book before the show!
Locked behind bars for three years, Shadow did his time, quietly waiting for the day when he could return to Eagle Point, Indiana. A man no longer scared of what tomorrow might bring, all he wanted was to be with Laura, the wife he deeply loved, and start a new life.
But just days before his release, Laura and Shadow's best friend are killed in an accident. With his life in pieces and nothing to keep him tethered, Shadow accepts a job from a beguiling stranger he meets on the way home, an enigmatic man who calls himself Mr. Wednesday. A trickster and a rogue, Wednesday seems to know more about Shadow than Shadow does himself.
Life as Wednesday's bodyguard, driver, and errand boy is far more interesting and dangerous than Shadow ever imagined. Soon Shadow learns that the past never dies...and that beneath the placid surface of everyday life a storm is brewing - an epic war for the very soul of America - and that he is standing squarely in its path.
---
Two of my co-workers constantly talk about American Gods (the show) and rave about how glorious and confusing it is. Since I have a strong preference for books over film and television adaptations, I knew I wanted to give the original book its due before plunging into the show that was recognized as "one of the most imaginative, adventurous, and deeply weird experiments on television--an entrancingly trippy metaphorical melee that elevates an investigation of American identity to a supernatural plane" (Metacritic). What does that even mean!?!
American Gods seamlessly weaves reality and fantasy into a work of fiction that's now recognized as a cult favorite. But, it's definitely not for everyone. The pacing of the book is extremely slow. The exposition drags for over half a book. The protagonist is somewhat flat and much too agreeable for someone who is suddenly encountering gods in his everyday life.
But if you can overlook these characteristics and don't mind them, you're in for a treat. And it really is quite easy to overlook them. They're the same complaints that people might have about The Hobbit, for example, but no one can deny the brilliance of the plot and the work as a whole. American Gods is especially intriguing to read in this time and age, where there is an increasing obeisance to technology in all of its forms. I can personally (and embarrassingly) say that I feel lost without my cellphone near me. Where is the line between addiction and religious fervor? Habit and ritual? There are some wonderful questions that Gaiman asks us to contend with.
And of course, the best thing is the mythology. There is great international representation. My favorite parts are the interludes between chapters where Gaiman explains how specific gods were brought over to America. They are, in themselves, immigrant journeys. They are what makes America... well, America!
There are some extremely graphic scenes, however, in both the sexual and violent terms. Though I'm curious to see how some of these scenes are created on screen, the squeamish side of me is going to pass on actually watching the show because of them. However, I'm very glad that I read the book and now fully understand the breadth of the world that Gaiman created. If you're interested in watching the show, like I was, I definitely encourage you to read the book first- it might be a bit confusing otherwise!
I rate American Gods 4/5 stars!
Read on,